Going to Oklahoma to visit mom is always an adventure. My last trip was last week and I am still recovering. Every day I was there it was over 100°. But, as they say, it is a dry heat, except in this case it wasn't really. (If you don't mind a serious "ear worm" that will last for weeks, check out this catchy tune recorded by Hank Thompson back in 1969.)
I am grateful to United Airlines which, a couple of years ago, established a nonstop flight between San Francisco and Oklahoma City which runs once a day in each direction. In past years I have had the dubious pleasure of having to choose among the following connecting cities: Los Angeles, Denver, Salt Lake City, Dallas, and Houston. I have even been routed through Memphis, Tennessee and Minneapolis-St. Paul. During the summertime I would select either Salt Lake City or Denver in order to avoid the shear wins and thunderstorms which are ever present in the Dallas and Houston areas, and would fly through Dallas in the wintertime to avoid the obvious pitfalls of Salt Lake City or Denver. Now I can just get on a plane, strap on my seatbelt, and get off at my final destination. Pretty sweet.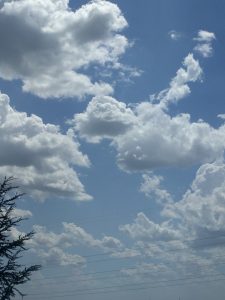 Normally when I arrive in Oklahoma City around 4 p.m., my mom would meet me at the airport and we would head off to a local steakhouse for dinner. Of course for me it was more like a late lunch with the 2 hour time difference. On this trip, mom was unable to make the trip to Oklahoma City to pick me up so I decided to try out Lyft.
I collected my bag at baggage claim and stepped outside to the curb in the sweltering heat of late afternoon Oklahoma City and diligently tapped my Lyft app on my mobile phone. In literally one minute (maybe even a little less) my driver was at the curb, a charming young African-American woman. "You realize we are going to Chickasha, right?" I asked. She responded, "yes" so I climbed into the front seat next to her.
I swear this girl has a career as a talk show host! Seriously.
We started out with the basic chitchat,
"Where you from?"
"What brings you to Oklahoma?"
"How come you moved to San Francisco?"
She picked up on the fact that I'm gay pretty quickly and then it really got fun. "I have a lot of gay friends, and it seems like they have an ability to just pick up and move to another place when they feel like it. Do you find that is the case?" she asked.
"Did you moved to San Francisco with someone?"
"Are you still with him?"
"Did you find someone new?"
"Is he older or younger than you?"
"Are you a cougar?"
I guess some people could've taken this whole conversation as NOYB, but there was absolutely no judgment in any of the conversation and it all became rather funny as I wondered what comment or question would come out of her mouth next.
I have to say, it made the 37 mile, 45 minute drive go a lot faster! And all for under 40 bucks.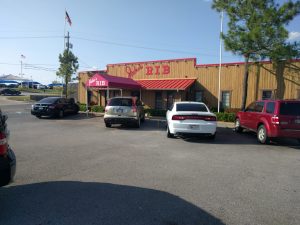 After settling in at mom's, I picked up the phone, and called Jake's Rib, a stalwart local barbecue joint and ordered a half pound of brisket, a pound and a half of ribs and one each of all the sides. I ate on this the entire weekend and even brought just a little bit home for my partner.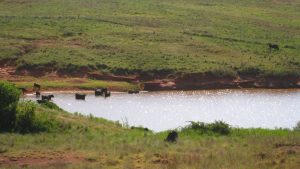 We did all the usual stuff. Mom got her hair and nails done while I took off to drive through our pastures. One afternoon we took the 12 mile drive down to Rush Springs, the "Watermelon Capital of the World" in search of, what else, locally grown watermelon. Watermelon does not normally mature until August so we were not sure we would find it, but sure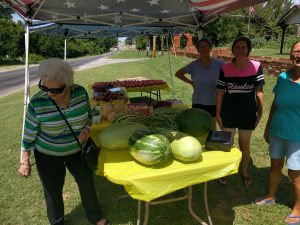 enough we happened upon a small fruit stand offering up personally grown produce: cantaloupe, watermelon, tomatoes, okra, shallots and onions, and yellow squash. We selected a ruby red watermelon, a cantaloupe, half a dozen tomatoes and 2 pounds of okra which I would fry that evening for dinner.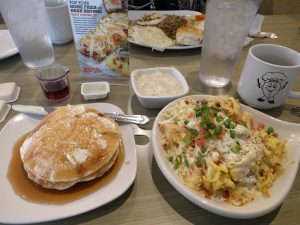 Mom even got me to accompany her to church on Sunday.  It was good to see a lot of people that I haven't seen for many years. That evening we joined friends of hers for their annual Fourth of July barbecue. (I know it was very late in the month but they were out of town for the 4th.) It even rained on the barbecue!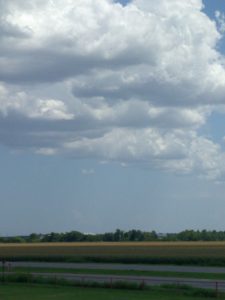 Monday morning we were up and at it early as my flight home left at 8 AM. While sitting in the airport waiting for my flight to board and playing a little solitaire on my mobile phone, the screen went black. "What the #@$%!" it was a good thing I had a printed boarding pass.
As this has never happened before, I didn't have a clue about what I should do. Fortunately, there was an Inmotion vendor just across the concourse. I figured if anyone would know what to do, they were my most likely source. Sure enough the young lady who worked there looked it up on her cell phone and she was able to show me how to reboot. Even so, it wouldn't. So I got on the plane, with the phone doing who knows what, and getting rather warm in my shirt pocket. I took it out and laid it in the seat next to me and about 40 minutes later, it was back. There it was, my startup screen! But my phone and used about 75% of its battery in the process so I turned the phone off to save the battery for my arrival in San Francisco as I would need to let people know I had arrived and summon a Lyft.
When we landed, I switched on my phone, or rather tried to, but again the screen was blank. I started the reboot process again and was able to get it going long enough to call the Lyft driver and as soon as he pulled to the curb the screen went blank again.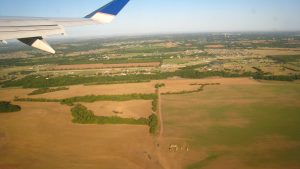 I got it to boot up one or 2 more times later that day but it finally just gave up on me. As a Project Fi customer, I called Google to see if I could file a claim for replacement phone. A very pleasant young lady there walked me through a few steps and then informed me that because of the type of malfunction that had happened they would send me out a "brand-new" refurbished replacement phone at no cost to me, even though I had for about a year and a half! Pretty good customer service. The phone will be here today.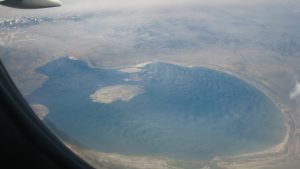 It is a little spooky, though, being in an airport without a mobile phone. Have you ever tried to find a pay phone these days? How do you call a Lyft driver without your mobile app? It has become my primary telephone and it is more than a little weird to not have it.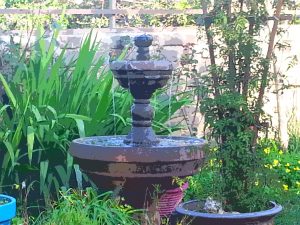 To top it all off, as I'm sitting at my desk on the day I arrived home, looking into the back yard at the fountain–it stops working. The pump apparently burned out. I'm going to have to buy a new one, take the fountain apart, pull the old one and replace it. Harumph. Neither me nor the birds are too pleased.
I'm now working on my 3rd day back in San Francisco and just about to have my internal timeclock reset to Pacific time. I am enjoying the 65° weather and the dogs are enjoying having me home and getting back to their "normal" schedule complete with breakfast at 6 AM, lunch treats, dinner and chews at 4. Oh and the daddy snacks they get to share with me just after that.
Now, thankfully, I am home for a little while. My next out-of-town trip will be to Northern California for a weekend, then back to Oklahoma toward the end of September before heading off to Augusta, Georgia for a long weekend in October. Then, right after I get home I get to look forward to having my left knee replaced which will curtail my traveling for a little while, anyway.
Sometimes it is dull, but it is never boring.
In case you were wondering . . .