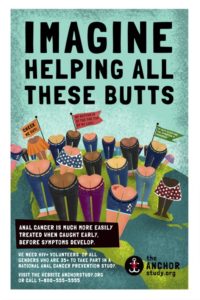 The University of California at San Francisco is conducting a study of 5,058 HIV+ men and women to learn if early detection and treatment of anal cancer caused by the human papillomavirus is beneficial. They need your help. (Click the link for information on how to join the study.)
There are study sites located across the United States. Check their website for locations.
According to the study's brochure, anal cancer rates are rising among people living with HIV. The goal of the ANCHOR study (Anal Cancer HSIL Outcomes Research) is to find the best way to prevent anal cancer among HIV positive men and women.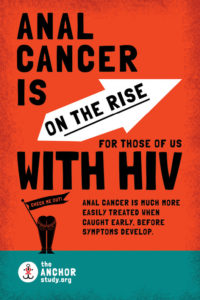 The lesions that can cause anal cancer (high-grade squamous intraepithelial lesions or HSIL for short) are found in at least half of HIV infected men and 20% of HIV infected women. These lesions have no symptoms. According to the study's website:
We know that for women, treating HSIL on the cervix can prevent cancer, so we're hopeful that treating these lesions in the anus will also prevent cancer. But this hasn't been proven yet and therefore most doctors in the United States don't screen for it or treat it.
"It's a chicken and egg kind of situation right now, says Dr. Joel Palefsky, Principal Investigator for the study. "We haven't yet established that the procedures to detect anal pre-cancers and early signs of anal cancer should be standard of care. This is because we don't have firm evidence that they are beneficial. Our approach at UCSF has been to assume that early screening is beneficial until research tells us otherwise."
According to the Centers for Disease Control, some men are more likely to develop HPV-related diseases than others:
Gay and bisexual men (who have sex with other men) are about 17 times more likely to develop anal cancer than men who only have sex with women.
Men with weakened immune systems, including those who have HIV, are more likely than other men to develop anal cancer.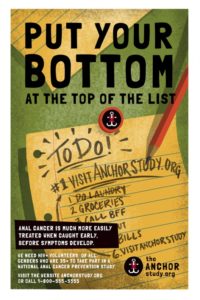 How do Men get HPV?    
HPV is passed on through genital contact—most often during vaginal and anal sex. HPV may also be passed on during oral sex. Since HPV usually causes no symptoms, most men and women can get HPV—and pass it on—without realizing it. People can have HPV even if years have passed since they had sex. Even men with only one lifetime sex partner can get HPV.
What are the health problems caused by HPV in men?
Most men who get HPV (of any type) never develop any symptoms or health problems. But some types of HPV can cause genital warts. Other types can cause cancers of the penis, anus, or oropharynx (back of the throat, including base of the tongue and tonsils.) The types of HPV that can cause genital warts are not the same as the types that can cause cancer.
Note: Anal cancer is not the same as colorectal cancer. Colorectal cancer is more common than anal cancer, and is not caused by HPV.
Gay folks, especially gay men, have always faced stigma when it came to infectious diseases. We don't have to think too hard, or to go too far back in our memories to recall the suffering and stigma surrounding HIV/AIDS when it emerged in the early 1980s.
The next medical hurdle gay men had to leap over was the emergence of the increase in detections of Hepatitis C, especially among HIV-positive men. In the late 1990s, early 2000s, more and more sexually active gay men both HIV-positive and negative were being diagnosed with Hepatitis C. During this time, the website for the Centers for Disease Control did not consider hepatitis C to be transmissible by sexual contact. We now know, through the persistence of many people in the gay community and their allies in the medical community that HCV is indeed sexually transmissible.
While HIV-positive men were being routinely tested for HCV infections, the same testing was not routinely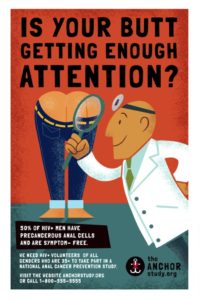 available for HIV negative men. When HIV negative patients asked their doctors for HCV screening, they were routinely asked whether they used injectable drugs and if not were told they did not need screening. We now know that is not a universal truth, but it took time and persistence. Now, the CDC suggests that all baby boomers be screened for hepatitis C. Even though it is believed among many that the unspoken basis for this policy change by the CDC is the belief that there is a high chance that most baby boomers at some point have used injectable drugs, it is a step in the right direction.
Based on information obtained from the CDC, there is no HPV test recommended for men. The only approved HPV tests on the market are for screening women for cervical cancer. They are not useful for screening for HPV-related cancers or genital warts in men.
The CDC estimates that annually there are 1,500 men who get HPV-related cancer of the anus.
Screening for anal cancer is not routinely recommended for men. This is because more research is needed to find out if it can actually prevent anal cancer. However, some experts do recommend yearly anal cancer screening (anal Pap tests) for gay, bisexual, and HIV-positive men – since anal cancer is more common in  these men.
Even though a vaccine to prevent HPV is on the marked, until recently it has only been made available to treat young girls. In the last year or so it has been recommended for boys up to 25 years of age. Older folks can still take the vaccine, but because of the lack of studies on its effectiveness in older adults, insurance will not cover the cost, which is 3 shots at $200 each.
Our hats are off to our good friends at UCSF for their efforts in this much needed area of study. If you are able to participate and you qualify, we strongly encourage you to do so. The study lasts 5 years and participants are compensated.
They are looking for folks who meet the following criteria:
HIV +
35 years of age or older
You've never been vaccinated against HPV You have HSIL (we'll test you to find out)
You've never been treated for anal HSIL
You've never had cancer of the anus, vulva, vagina, or cervix
Check out the ANCHOR Study website for more information. To volunteer, click here.
In case you were wondering . . .