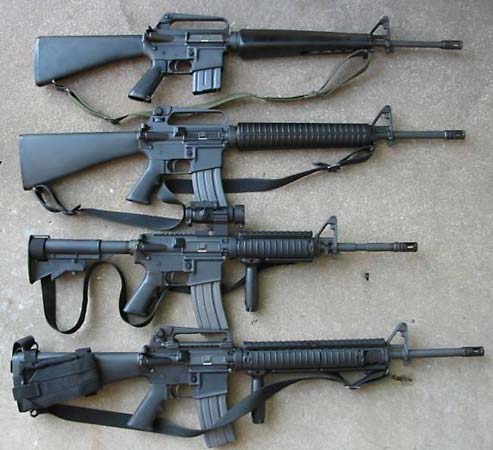 Finally politicians, in particular the Democratic candidates for president, are all talking about the need for common sense regulations on gun ownership. I listened to them earnestly discussing their proposals during the Democratic Presidential Candidate Debate last night (October 15) in Ohio.
Unfortunately, several of them called for mandatory buy-backs of AR-15s, AK-47s and presumably other kinds of military assault weapons. This is just patently absurd.
It's not going to solve anything–or even help.
How are you going to make someone sell to the government something they already have, which is readily available on the open market? It's silly. It's like requiring citizens sell back milk to the government when you can just buy more at the corner store.
If you don't think assault weapons are readily available and accessible, just check this link. And they're not really that expensive.
Before all my right-wing friends who worship their warped and inaccurate reading of the 2nd Amendment either leap from their chairs to applaud my rebirth or faint from astonishment, keep reading.
What politicians should do is to completely ban the sale of assault weapons. Make them contraband. Like drugs. Make it so that it is unlawful to buy, possess or sell them. Then offer to buy them back from those who have them in their possession, no questions asked. Make it a felony to possess, buy or sell them. Make it so that they can be confiscated on the spot from anyone found to be in possession of one.
That is what they should do.
In case you were wondering . . .
I've written on this subject numerous other times, covering a multitude of gun ownership-related topics other than red-flag laws, which I fully support:

MORE GUNS, HARDENING TARGETS, ARE NOT THE ANSWER.
February 26, 2018

MANDATE: LIABILITY INSURANCE FOR GUN OWNERS!
February 25, 2018

ANOTHER DAY, ANOTHER SCHOOL SHOOTING. SINCE WE CANNOT SEEM TO CONTROL GUN OWNERSHIP, LET'S HAVE NATIONAL OPEN-CARRY RECIPROCITY.
February 14, 2018

YOUR PRAYERS, YOUR MOMENTS OF SILENCE FOR VICTIMS, WILL NOT STOP GUN VIOLENCE
October 2, 2017