This week, I'm on vacation, visiting the nation's capitol, Washington, D.C. Luckily, a friend lives in Silver Spring, MD, so I have a place to bunk while I traipse about the City and its environs. This is my third year to land in DC during this time of year, and I've used it to explore places I first visited when I was either 15 or 18 years old, or as recently as 2000, when my parents brought out the kids and their "other halves" both of whom have since split off.
Things have changed in the Capitol City over those years. There's much more of a "bunker mentality" when it comes to visiting prominent sites like the U.S. Capitol building.
For instance, although begun prior to 9/11/2001, this was the first time I had to access the Capitol through the Visitor's Center. In all previous visits, we simply walked up the front steps and into the Rotunda. Once inside, we pretty much free to roam the building on our own. Not anymore.
Wednesday morning, I arrived promptly at 8:30 a.m., the Center's posted opening time to find probably 200 people already standing in line, many of them middle school aged kids. (Oh yeah, Easter break.) After about 45 minutes I entered the center where I literally had to empty everything out of my pockets for scrutiny by the x-ray machine (or whatever it is they use these days), and my person to a more high-tech device before being allowed to re-load my pockets.
Once inside the cavernous Visitor's Center, it was literally humming and buzzing with hundreds of people, most of them kids on Easter break, most of whom were standing in neat, coiled lines waiting for a tour.
I got there well before my Capitol tour, scheduled by Speaker Pelosi's office, was to begin as I needed to pick up my passes for the House and Senate galleries. I had been informed that I could use the underground pedestrian walkway to access both the Longworth House Office Building and the Hart Senate Office Building. Turns out I was misinformed. Instead, I was informed that I would have to leave the Capitol and make the trek above ground to both buildings.
I've got bad knees, one scheduled for replacement surgery in a couple of months. Both started barking at me when I got up that morning. I had my folding walking stick clipped to my belt and simply did not want to waste that many steps, that early in a day where I knew I would be on my feet for most of it.
While waiting for my first tour in the Visitor's Center, I chatted up one of the many tour guides who wore bright red either sweaters (information officers) or sport coats (tour guides) with smart gold emblazoned round patches. I was lamenting the fact that I was going to have to drag my bad knees back out of the building, go to the offices to pick up passes, then stand in the long entry line and go through security again. She looked at me with a sly grin, "Don't tell anyone I suggested it, but everyone's out of town (meaning representatives). They all have interns with probably little to do. Call their office and see if an intern can bring the passes to you." I did. It worked. Owen, who was answering the phone in Speaker Pelosi's office was able to procure the services of a very nice intern named Eva who arrived eventually with the passes! BRILLIANT!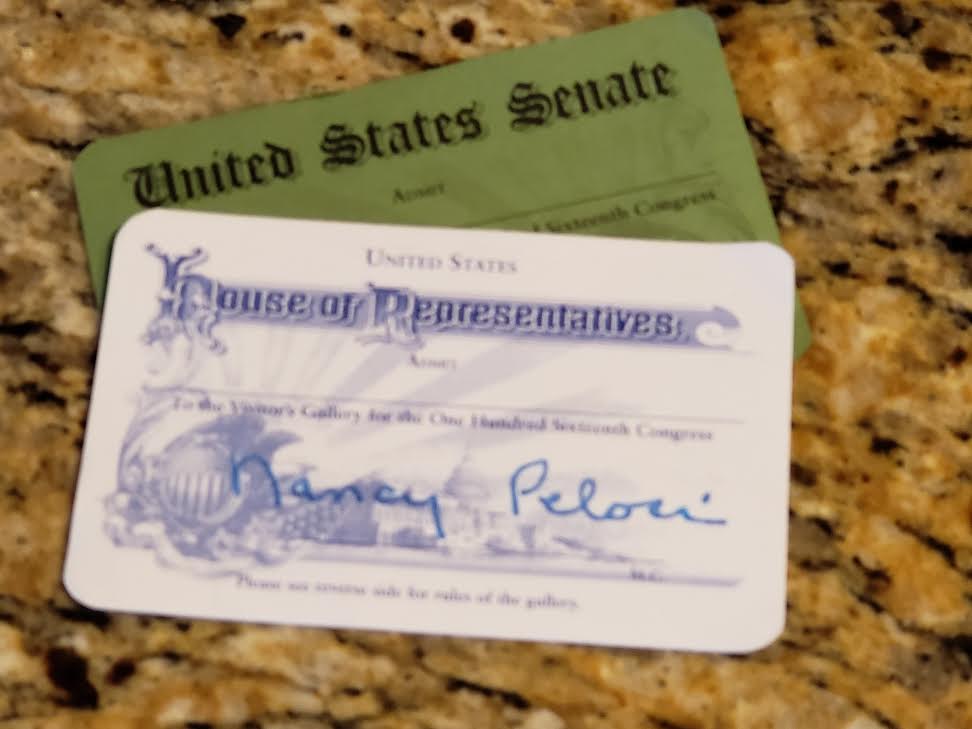 In the old days, we weren't stripped of our "electronic gear" before entering the House Visitor's Gallery (if we even had electronic gear in 1990) although we may have had to surrender our camera. Now, there's a huge queue where everything was checked before standing in yet another line before entering what was this time a silent chamber, as most lawmakers had left town for Easter weekend.
The Senate was much kindler and gentler, allowing us to bring our gear with us, but issuing a stern admonishment not to use it. Again, the chamber was empty.
Finally 11 a.m. rolled around and it was time for my first tour, the Capitol Tour! I would only suggest this tour for one reason: it's the only way you get in to see it. It's free, and apparently, you pay for what you get. If I had never been there before, was from a foreign country, or had no prior knowledge of what I was seeing, at the end of the tour, I still wouldn't have had any useful information.
Our "tour guide" had apparent depth of knowledge, but was equally apparently bored out of his mind. More interested in playing game show host ("Hi, there! Where are you from?") and making cute conversation with members of the tour group than providing meaningful insight into what it was we were seeing and why it was important, the tour was, in my opinion, a bust.
We did walk past the House Speaker's and Majority Whip's offices (which are remarkably accessible to the public) although we were not allowed to peek inside. It was the day before the Mueller report was set to land and apparently Democratic committee chairs were huddled inside strategizing.
House Speaker Nancy Pelosi's office, just off the hallway.

Majority Whip James Clyburn's office just off the Hall of Statues.
Standing inside the Hall of Statues, we could look down the hallway to the south where a uniformed police officer stood guard outside huge double doors leading into the House Chamber. If my memory recalled, one of the statues donated to the Capitol by the state of Oklahoma where I was born, Will Rogers, stood just around the corner. The guide explained that the statue was not on the tour. Meh. In the "old days" we simply wandered past and engaged in the good luck practice of rubbing the toe of Will's bronze shoe–which is now off-limits.
A brief word about the statuary.

States donate 2 statues each–of whomever they want. Oklahoma sent Will Rogers and Sequoia. Will, I don't have a quarrel with, nor would I quibble with Sequoia had Sequoia been born in Oklahoma rather than forcibly marched into the state from Georgia after the enactment of Indian Removal Act of 1830, which was signed into law by Indian hater, Andrew Jackson.

California, my adopted state, also has two: Ronald Reagan who ignored the AIDS pandemic and institutionalized trickle-down economics, and Junipero Serra, now a saint in the Catholic Church, who is famous for establishing a string of missions along the California coast from San Diego to Sonoma, largely on the backs and at the expense of California's native tribes. C'mon, California. You can do better!
Junipero Serra

Sequoia
At noon, following the Capitol Tour, I got a ticket for the "Halls of the Senate" tour at 2 p.m. which explores the work of the Italian artist/muralist Constantino Brumidi, whose work not only includes the ceiling of the Rotunda (approximately 4,000 square feet) and the nation's time line around its perimeter, but also adorns the floors and walls of the Senate side of the Capitol, not so much because I was interested in a detailed explanation of the artist or his work, but to gain deeper access to the Capitol. This was a good tour and the guide was exquisitely informed and informative–and the halls are truly beautiful, almost gaudy.
Examples of Constantino Brumidi's work in the Halls of the Senate, including the Rotunda ceiling, top right.
While waiting for this tour, one of the red-sweatered information officers I had been chatting up approached asking how the Capitol tour went. I explained my disappointment at not getting to see the Will Rogers statue, how I grew up in Oklahoma, and how I used to walk by and rub his toe, and how the Capitol Tour guide simply dismissed my request to see it, even though it was no more than 5 feet inside the hallway to the House Chamber.
"Just a minute," she said with a smile as she turned away. She returned with a ticket to the "Freedom Fighters in the Capitol Collection" tour at 1 p.m. I was told that the tour included a visit to the Old Senate Chamber (YAY), and more importantly, that she had gained permission for that tour guide to take me around the corner to see the Will Rogers statue! Breakthrough! As promised, at the end of the tour, we were escorted around the corner and there he was!
The Old Senate Chamber, which also served the Supreme Court.

Me and Will Rogers!
Finally, the last tour was over and after a short swing through the gift shop it was time to make my way out of the Capitol and across the street to the Longworth House Office Building to meet my old college friend, who works for the House Agriculture Committee, and to make our way via train to his house in one of those picturesque Virginia suburbs for dinner with him and his wife.
When I met up with him in his office, I mentioned how stupid I felt having walked around all day with my folding walking stick (okay, it was a cane) hanging from my belt. He scoffed. "We do what we need to do." About halfway to the train station, I stepped off a curb, landed wrong and twisted my knee. Just the slightest twinge at first and then, after a few steps, "Keith, we'd better stop so I can unfold this cane."
The dinner was both delightful and memorable. It ended with me promising that we would repeat it the next time I'm in D.C. and a ride from him back to my host's apartment building in Maryland, as the knee was simply too painful to allow me to use public transportation to get back as we had originally planned.
The next morning at 9 a.m. I checked myself into the Holy Cross emergency room where I was admitted to "Express Care," which is anything but. Even though I was allegedly the first patient to be sent there that morning, I wasn't released until noon, but I had obtained a 1 p.m. appointment with an orthopedic surgeon who could give me a cortisone shot, which was the sole reason for going there in the first place. I got the shot, and by 3 p.m. I was on my way back to my host's. Six hours, missing a scheduled visit to the Supreme Court, and an entire day spent getting a simple cortisone shot. But it was worth it. Today I am (mostly) pain free.
This afternoon, I am schedule for a tour of the White House at 1:30 p.m. The weather forecast says that there are supposed to be downpours at 1 and thunderstorms at 2. I've got my rain gear, but I don't really want to get wet and I don't want to risk slipping on a wet sidewalk, so I'm going to skip it. As Nancy Pelosi once said, "He's just not worth it."
This weekend, we are visiting the homes of James Madison, James Monroe and Thomas Jefferson. I'll save my knees for that.
In case you were wondering . . .